Last edited by Korin on Wed Apr 13, 2016 4:59 pm; edited 2 times in total
Admin




Posts

: 25


Join date

: 2016-04-12



The idea for this mon stems from an old flash animation called Two Heroes. Its an ancient hole-in-the-wall animation from a now dead deviantart page. I loved the concept as a kid.
Take a look:
http://ryanide.deviantart.com/gallery/30223813/Two-Heroes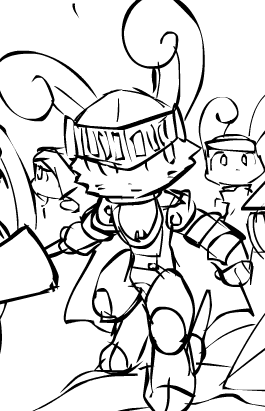 I'll be honest, I am probably going to take *heavy* inspiration from this rabbit when designing his rookie form.
Digi-evolution Line: (Names to be changed)
In-Training: Bunnymon See top
Rookie: Usagimon (Bunny JAP) See above, summons ethereal lances.
Champion: Kishimon (Knight JAP) King Kazuma with armor and a lance.
Ultimate: (Kiheimon: Cavalry in JAP?) Taur-bunny knight with two lances. Four digitigrade legs instead of hooves. Tail is kind of like a cross between bunny and deer.
I'd love to see an armored helm that wraps around his muzzle, as well as some armor on his 'taur'. Something like armored kneepads or something covering his back.
Mega: Like Kazma with poofy pants and four arms. Keeps armor above torso. Two pairs of three lances and surround his back like wings. Uses them like Penny's swords in RWBY.
Inspired by Kali the Hindu goddess. (Usagiransumon: Rabbit+Lance in Japanese)
Corrupt evolution: ???
Mannerisms: Fairly serious but isn't opposed to having fun. Enjoys a good meal. He holds his (previous) position as a royal knight in high regard, and is ashamed his tamer is so fearful and cowardly. He gets flustered if people call him cute, but doesn't deny or oppose it.
For how stoic he is, think gabumon.
More coming soon.
Feel free to brainstorm and help me out.
I am a terrible artist please someone draw these.
Also I need help with names.
Admin




Posts

: 25


Join date

: 2016-04-12




---
Permissions in this forum:
You
cannot
reply to topics in this forum